Place in EOS holder to participate in an opportunity sharing offering.
True Value Offering & Better, than Any Offering
This is not an ICO activity, but an opportunity sharing offering. Members and Founder share the same benefits result, no free token distribute to Founder, all KOIN hold by Founder came from his own fund and convert to the same rate as other members.
Every EOS token collected is saved securely at the KOIN smart contract, and can be withdrawn at any time. Deposit and Withdraw doesn't depend on any Exchange; all functions are integrated in the KOIN smart contract. Price is calculated based on current supply divide by total EOS in smart contract account.
Value resulted from bettors activity will distribute to all members immediately in term of token supply, which is directly impacted to the token price (Price=Current Supply/Total EOS).
The value shared comes from a percentage of surplus or deficit in each game session. In Dice, Free Dice, Lucky Wheel, TOTO, and Soccer, value sharing is 100% of surplus/deficit. In Lotto4x20, Lotto5x36, Lotto6x45, value sharing is 30% from surplus, and 70% will go to the jackpot pooled prize. Surplus value will reduce token supply and Deficit value (after deducting from the jackpot pooled prize) will increase token supply.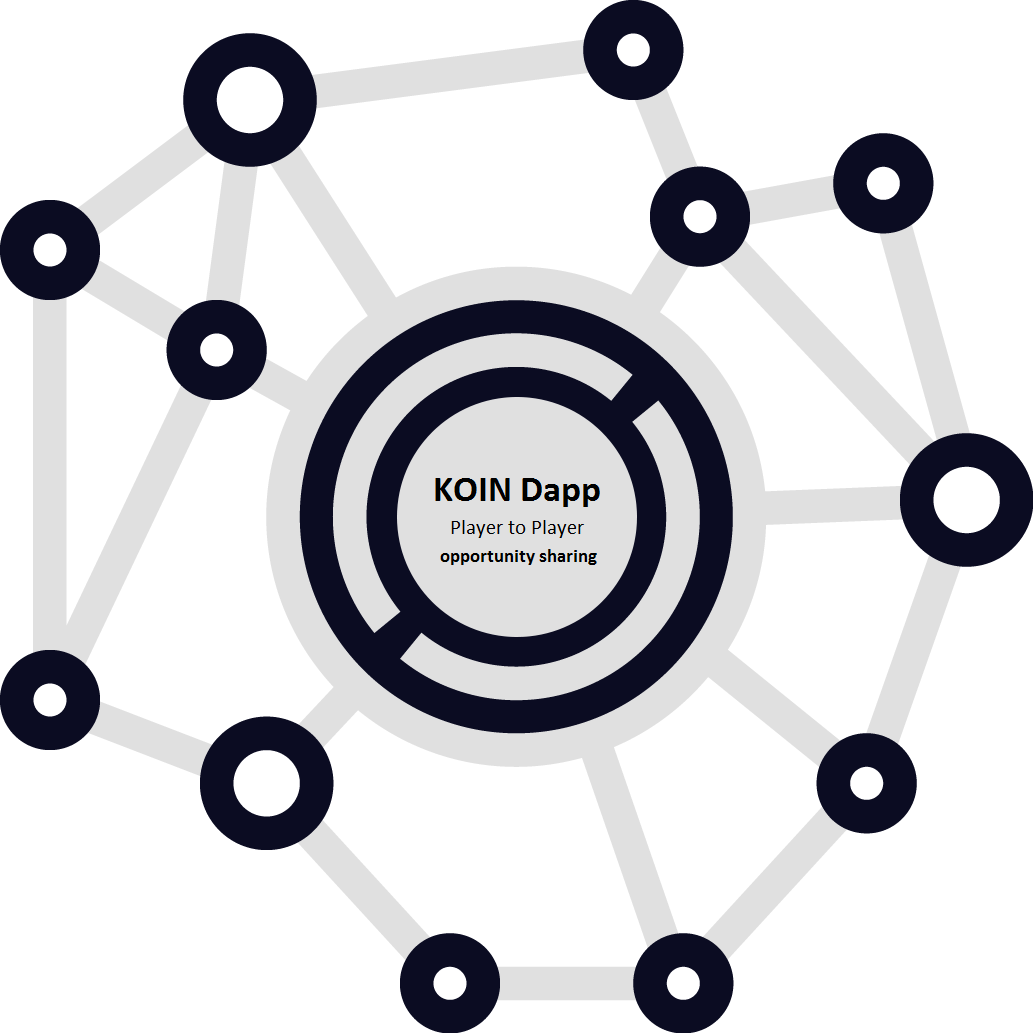 Bettor to Bettor
Each token holder can be an active or passive bettors, stake as a bettor or position against them.
Fair distribution
No special treatment to Founder. Token hold by Founder came from the Founder's own fund as other members do.
Small fee
No Transaction fee, no deposit fee, small withdraws fee and small winner fee.
Smart & Transparent
Value distributes immediately into token supply. All Activity recorded and traceable in block-chain using EOS block explorer.
Secure Interaction
All things happened at the smart contract and interaction using Scatter-JS that enabled secure and seamlessly from any popular EOSIO wallet.
Easy To deposit & withdraw
Deposit & Withdraw integrated to KOIN smart contract, no needs for external Exchange.
Token & Smart Contract
KOIN token & smart contract is released on EOS block-chain. Its compatibility of the token with third-party services wallets, and provides easy-to-use integration.
Current Supply & Price
Current Supply not only depends on deposit and withdraw activity, but also depends on the surplus or deficit value cause by active bettors activity.
Development Activity
We carefully design and build optimum KOIN DApp run in EOS platform that allow no transaction fees, consume minimum CPU, NET and RAM. Our decentralized random number generators bring fairness and tamper-resistance in the process of generating numbers to ensure a fair game for all bettors.
Start on GitHub
Please Login
Before deposit or withdraw, make sure you have installed Scatter and setting your account securely on Scatter.
By clicking on login, you have read and agree to Term and Conditions applied.
Login
Game Area
Koin Dapp provides fair game for the bettors with the small fee applies only to the winner.
Frequently asked questions
Term and Conditions
This opportunity is open for all token holders. If you are looking to participate in KOIN token, you should checks if it is legal in your country and you should agree that participates in Crypto Token has been very rewarding and risky at the same time.
Create New Account
Already have account, but want to create a new one.
RAM (4096 bytes), Delegate CPU (0.2 ), Delegate NET (0.2 ) cost will charge to your current account.
Create